GREG'S CANOE OUTING
"a ministry to the homeless"
Saturday Feb. 11th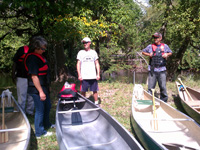 If you are homeless or would like to minister kindness and have fellowship with the homeless you are welcome to join us as we canoe the North Fork of the New River. We have accommodations for up to 30 people in the canoes & kayaks and an infinite number of spots for people positioned on the river banks; so, let us know if you would like to participate.
Arrangements are being made for everyone to meet at the put-in (launching area) at 10 am. for check-in. All participants are encouraged to check in whether they are paddling or serving in a support function. All paddlers must agree to wear closed in shoes that will protect one's feet from the sharp shells and rocks. All paddlers must agree to read and sign the "Release of Liability form" before launching. Shuttle service will be available for anyone needing a ride to the starting point.
Grilled Luncheon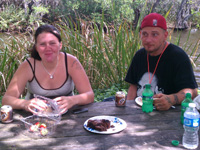 We plan to stop along the riverbank and have a grilled hamburger and hot dog lunch at Delevoe Park. The park is about midway to our put-out destination.
Speakers
Greg and others (TBA) plan to share with the group in a time of fellowship after lunch.
Paddle to the Swap Shop
The canoe trip will continue the remainder of the trip ending near the Swap Shop.
Shuttle Service
Transportation will be made available back to the launching area and other starting points.
Donations
Donations for food and beverages please contact Greg Mazzella. (See Below)
Contact: Email Greg or telephone Greg at (954) 658-7456
Photo Gallery
From the North Fork of the New River